Samsung has always launch many variants of his flagship by changing the processor and even it has been huge success in some markets.
Samsung has a good track record of offering its flagship handsets with Qualcomm and its own Exynos chipsets depending on market. Although Galaxy S8 and S8+ leaks so far have mostly focused on the Snapdragon 835 variant, the existence of an Exynos alternative is pretty much considered a given at this point.
The chip
Exynos 8895
was found running on Samsung Galaxy S8 as we already have hardware spec in detail, performance of this chip out performs Snapdragon 835 chip as per Geek bench.
Today we finally get an early taste of benchmark results thanks to GeekBench. The listing apparently comes from an SM-G955F handset, which an educated guess would identify as the S8+ and the numbers are pretty impressive.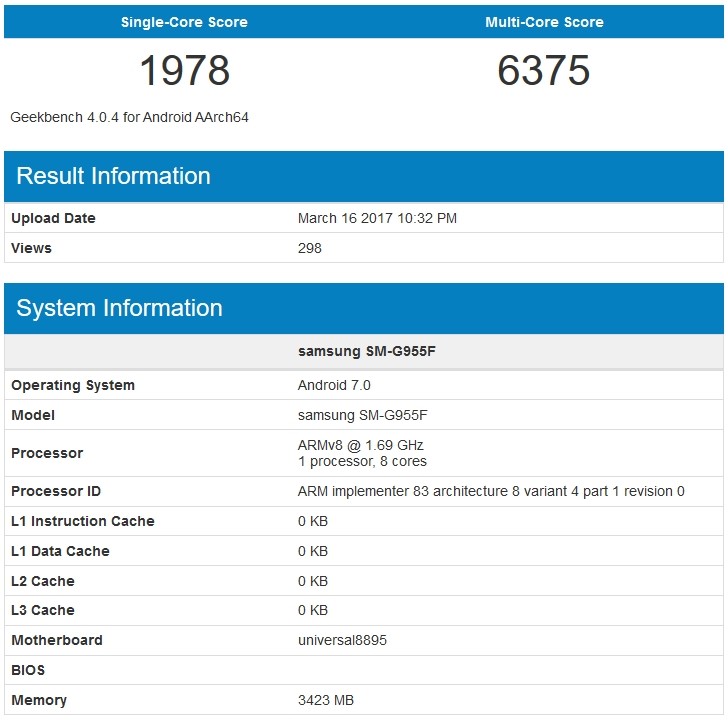 Last we have got Snapdragon 835 performing in the S8+, it managed to get 1929 points in single-threaded tests and 6084 under multi-core loads. With 1978 and 6375 points, respectively, the Exynos 8895 just manages to outscore its 10nm Snapdragon rival. It even below the Huawei Kirin 960 in both categories.


It is worth noting that these results are preliminary so things might change by the time the S8 hits the market.Also, according to a previous leak, the Exynos 8895 have flavors – the top tier one will have its four M2 performance cores running at 2.5 GHz and have two extra GPU cores and a higher clock rate on the Mali-G71 and we assume Samsung will equip the S8 and S8+ with that.However, since GeekBench seems to be detecting the clock 1.7GHz clock speed of the Cortex-A53 cluster, which is identical in both the 8895M and 8895V, we can't really say which one these benchmarks scores come from. If it turns out to be the "V", the new Exynos could possibly be capable of churning out even more number-crunching power.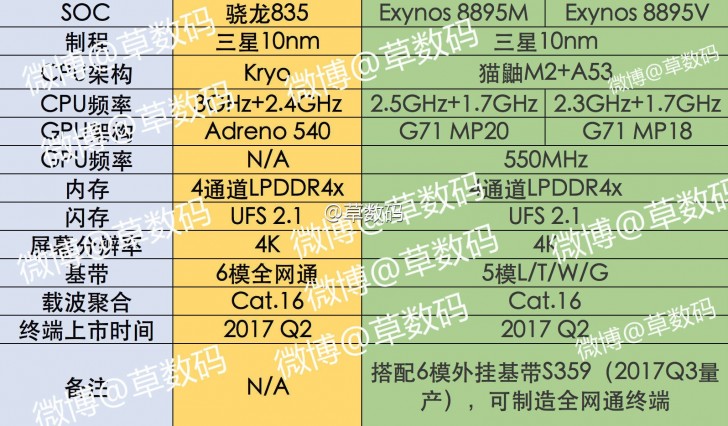 On a side-note, GeekBench does seem to report 4GB of RAM on the unit, which, going by the "F" notation, should be the international one. This falls in line pretty well with another Galaxy S8 scoop from today, namely that the 6GB version will be a China-exclusive. In any case, we should know for sure shortly after the March 29 unveiling.

Source: GSMarena,http://browser.primatelabs.com/v4/cpu/2109288