Samsung Galaxy S8 and S8+ is launching soon but we have the long list of accessories for the duo. As we already share that Samsung is going to launch the
Galaxy S8's
DeX Station
(short for Desktop Experience) and now we have the images of the devices with its pricing. Here is the look for the
DeX Station.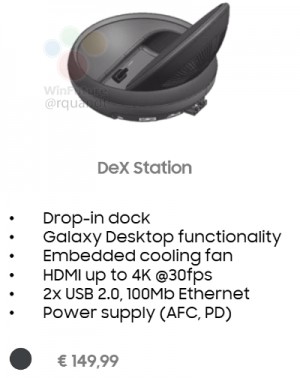 The DeX Station's product listing also shows us a recommended retail price of 150 EU(Rs10,600). We're looking forward to Samsung's event on March 29 to see the DeX Station in action, and also get a look at what other accessories Samsung has to offer.
There is one more accessory for Galaxy S8 and S8+ and it is Power bank. Yes, Samsung is launching the power bank for the duo.
The power bank in question has leaked in grey and blue shades. It's a 5,100 mAh power bank that will be capable of quick charging the new Galaxy devices, with a top limit of 15W for both charging up the new phone, or the power bank itself.
Finally, the power bank is said to become available for 60 EU(Rs.4238).